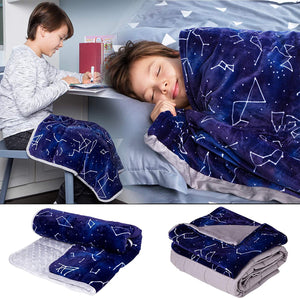 Florensi
Florensi 5 lbs Weighted Blanket with Removable Bamboo Duvet Cover & 3 lbs Weighted Lap Pad Bundle- Sensory Blanket and Lap Pad Blue Constellations for Kid Baby Toddler Teenager, Washable Cover
Material: Our Weighted Blanket is 100% Cotton Filled With Glass Beads. Cover Material: One Side 100% Bamboo and One Side Minky. Our Weighted Lap Pad is Soft, Minky Material on Both Sides

Dimension: 36" x 48" for our weighted blanket (weighs 5 lbs) and 20" x 23" for our weighted lap pad (weighs 3 lbs)

Design: The stitching of our weighted blanket is sturdy and the ergonomic 4" design helps ensure that the blanket hugs the body, while providing an equal distribution of weight across the body. It helps the beads stay put within the designated area, preventing leakage and ensuring quality. We chose the night sky as the inspiration for our children's lap pad pattern, which promotes tranquility and is a fun design to help children calm down and relax. A perfect Christmas gift for your kids!

Mission: Florensi was founded with a mission to provide relaxation and peace to everybody regardless of level of need. Our founder began suffering from anxiety at the age of 25, and has been researching techniques and instruments to help reduce her reliance on medication ever since. The Florensi line has been created as a result of this journey.